civic history movies/hello columbus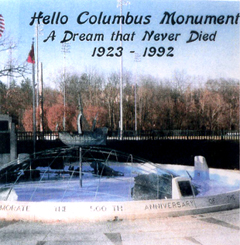 One of the very Special film projects that Tom Catanese accepted to produce over the last 25 years of business was the entire Hello Columbus Monument which took over 10 years to conceive, create and build at Elmwood Park in Norristown! The Monument was designed by a NASA Engineer who worked the original Moon landing in 1969!

Back in 1985, a young Hank Cisco, then a motorcycle policeman, came across a large stone marker in Elmwood Park that stated in 1923 a Monument would be created to honor Christopher Columbus's discovery of America! But because of the 1929 Wall Street Crash, there was never enough money to begin the concept! Hank back then gathered many Italian American businessmen and asked them.

They would help to build this monument! They all agreed! Over $300,000 dollars was raised from huge dinner affairs at Westover Country Club! Tom Catanese decided that someone needs to record all of the events, meetings and dinners that were videotaped by the Norristown High School Video department! Tom took over 35 hours of unedited Video to make this historical DVD!

Tom hired a Video company at great cost to video tape the entire event of the Christening of the Monument! Over 2,000 people were in attendance on the bright and sunny day!

Tom hired a high platform lift so that we could shoot down on the event! We were then able to video tape the entire two hour event of the Christening of the Monument!

To this day there is no other monument in the country that can match the Monument in Elmwood Park! Now on each Columbus Day the Italian American community comes together to celebrate another year gone by!

This two hour DVD cost $12,000 to conceive, storyboard, produce and direct to the finished DVD! Over 4 hours were spent creating the movie script. Then it took about 12 hours of research and reviewing all the footage that was already shot. It took another 8 hours to story board each scene. To complete the project Tom spent another 12 hours to edit all the photos and complete the entire project. The total was 36 hours to edit!