family heritage & legacy movie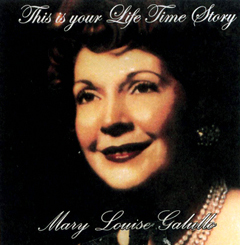 this is your lifetime story - mary louise galullo
This Movie was created for a Mother of four children! Her parents came over from Barre, Italy in 1906 and first lived in Philadelphia until 1912 when they moved to Ambler, PA They were a family of 9 people! Their first apartment was only three rooms some of the children had to sleep on the floor! Their father ran clothes line across the room so the women could dress in private! It was very difficult but they knew they had to make it work and they did!

In 1929 the family lost a son, Johnny in an auto accident! In 1938 the family lost a daughter and a sister to sickness! Those years were filled with heart break! Mary Louise met a young man whose family owned a Flower Shop in Norristown!

In 1936 Mary Louise met her Husband to be in the balcony of their church; they fell in love and married in 1937! They had four healthy children and all grew up on a small farm, with apple trees, mulberry trees and cherry trees! They had a pig, goats and many dogs. And a swimming pool! They had a wonderful time on that farm! Mary Louise had five sisters and one brother and every holiday all the families would gather at the home of the oldest sister whose family owned a good deal of property! All the cousins would play games like baseball, volleyball or horseshoes!

Then they would all sit down to a huge food fest. All the Aunts were the best cooks in the world because they would make pies and cakes, hot dogs, hamburgers, sausages, pasta, you name it and all the family had it to eat! They all looked forward to seeing all their cousins because they had so much fun!

Many recall and remember that in 1956 their parents took a cruise ship to Italy to help re-build the Monte Casino monastery that was on top of a huge mountain near Rome. The Allies bombed it in World War II because the Nazis were hiding in it! She and her husband visited all the sites in Rome, St. Peter's Basilica, the burial sites and the caves, the seven hills' of Rome, the famous Coliseum, the Spanish Steps! Then they went to Naples and to Bari on the east coast of Italy!

It was a trip of a life time! They came back with hundreds of photos of the trip!

The parents were away for over 30 days! In 1959 they had their 25th wedding anniversary party at a Restaurant that they owned in town! Over 100 people attended! Friends and family all enjoyed the party!

This Movie celebrates the entire family's history over a span of 100 years! Over four generations of families were covered in this movie! 60 minutes!