religious history movies DVD visual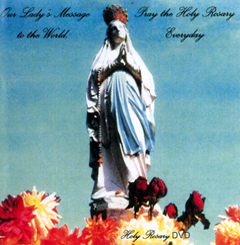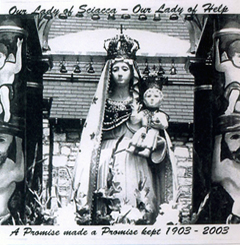 holy rosary movie
This movie is all about the 550 Old Master Painters from the 1500's, 1600's, 1700's and the 1800's! Each painting is of a Mystery of the Holy Rosary! It is ideal for Catholics who want to say the Rosary and at the same time see the visual painting of the Crucified CHRIST! The birth of Jesus in the Manger, the rising of Jesus Christ on Easter Morning! The Annunciation of the Blessed Virgin Mother as the Angel tells her that God has blessed her in a very special way! As you pray the word, the picture of that word comes to the screen! This Movie captures the entire 150 Hail Mary's for someone who can't get to church! For anyone who has a special devotion to Our Lady and prays the Holy Rosary on a daily basis they will enjoy praying along with the children in church! Total of 550 Paintings of the Old Masters! 120 minutes
DVD our lady of sciacca in sicily
This movie tells the Story of all the miracles that happened all the way back to the 1500's! Mt. Etna had erupted and all of the homes in Sciacca were destroyed! Hundreds were killed. It was also the time when the Plague killed over 40% of the people living in Sicily! The people of the town ask the priest if they could carry the statue of Our Lady in a wagon through the streets of the town in hopes that it would stop the Plague! On the third day, a blue tornado swept through the town and from that day on, no more village people died!

In 1864, again Mt Etna erupted and again hundreds of people were killed by the falling buildings! Again the people cried out to our lady and another miracle happened! When the priest went to put the Statue away, he noticed that tears were running down her face! It took 28 very wet towels to dry all the tears of Our Ladies Statue! The Earth Quakes stop that day! 90 minutes!
epiphany of our lord parish movie
In 2007 the Parish was going to celebrate its 50th Anniversary and the Celebration Committee wanted to have a record of all Christmas, Easter and the Holiday Mass Celebrations that were held at the school, the Church hall and in the New Church! Everyone looked to see what they had taken in 8mm film with Baptisms, Confirmations, Weddings and all Special Events! Someone had very old footage of the building of the Old School that was used as the church for 20 years! Many photos of all the Priests who served as Pastors! With lots of still photos that were used in the DVD! 40 hours to edit. 60 minutes!