corporate business success tribute movie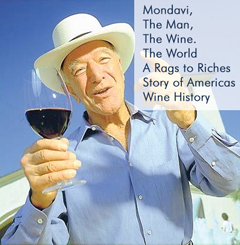 MONDAVI: THE MAN, THE WINE, THE WORLD
The Single Studio Pitch Page
This movie is a Roller Coaster & Rags to Riches Lifetime Saga
composed by tom catanese
Robert Mondavi Winery: now there's a name that almost every American wine consumer knows and trusts. But it wasn't always so... It's 1965! "You're fired!" No, that's not Donald Trump getting in Robert Mondavi's face... that's Robert's own mother, Rosa, kicking him out of the family wine business that he has carefully built over 23 years. Now, at the age of 52, he finds himself broke, almost homeless, and cut off from the family that has been his support for all these years, from the early days as grape exporters in Lodi, CA! Back in 1943 he talks his father into purchasing the Charles Krug Winery in Napa Valley, where Robert and his younger brother, Peter, have built up a reputation for producing reliable, inexpensive wine. But Robert has bigger dreams, and the ambition to go along with them, and a huge Ego that is as big as the Golden Gate Bridge! Peter accuses Robert of stealing money from the company! He and Peter get into a fist fight in the Winery! Peter gets the worst of it! Rosa is enraged and she holds a meeting and fires him!

His Mother has sided with Peter, the younger and jealous brother, who wants to keep the company small and "safe." With his faith in God and himself intact, Robert is not to be defeated. He starts over to build his own Dream Winery. The family will not give him his 20% share of the Krug Winery! Margrit, Robert's second wife uses her creative skills and mix's wine tasting, art and French foods to America. Robert joins forces with the number one French wine icon, Baron Philippe de Rothschild, to create French quality wines in Napa Valley under the name of Opus One. Robert becomes a California Philanthropist… he makes millions and gives millions…he travels the world…he lives the good life.

He climbs to the top of the Mt. Everest of wine and plants the House of Mondavi flag at the summit. Not bad for the son of an impoverished Italian immigrant. Alas, at 89 he is turning over most of the company dealings to his son, Michael, while he is enjoying the time of his life with the woman who is his wife! In 1998 the Robert Mondavi Winery sells over a half of billion dollars in wine! Margrit, is a major force in the company!

In the year 2000, Robert Mondavi is Awarded France's highest Award, the French Legion of Honor also given to Charles Lindbergh and Gen, George Patten! This is a Rags to Riches roller coaster ride that is filled with every human emotion! His life story is filled with scandals, family treachery, tremendous greed, backroom back stabbing and boardroom betrayal…. This saga of one man's life story is part family melodrama, part business deal, part romance, all set in the glamorous Wine Garden of Eden, Napa Valley, Wine country, USA! It is one man's journey to be the best Wine Man in the world and to also make his own Dreams come true! This compressed movie is a version of what the real 120 minute movie will look like. Tom Catanese created this for the Mondavi children to secure the movie rights!